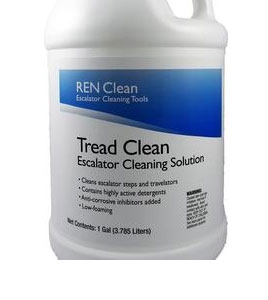 TREAD CLEAN - cleaning solution
Tread Clean escalator liquid concentrate for maintaining and restoring escalator cleanliness. REN™ Clean System provides maximum results when TREAD CLEAN is used as instructed with Cleaning Pads.

Special non-corrosive formulation will not harm escalator mechanics, plastic parts, aluminum or painted treads.  TREAD CLEAN dries quickly leaving no sticky residue.

All TREAD CLEAN components are low toxicity, biodegradable, meeting or exceeding VOC requirements.  It also contains no Clean Air Act Hazardous Air Pollutants (HAPS), nor is it a RCRA hazardous waste.

Send us an Enquiry