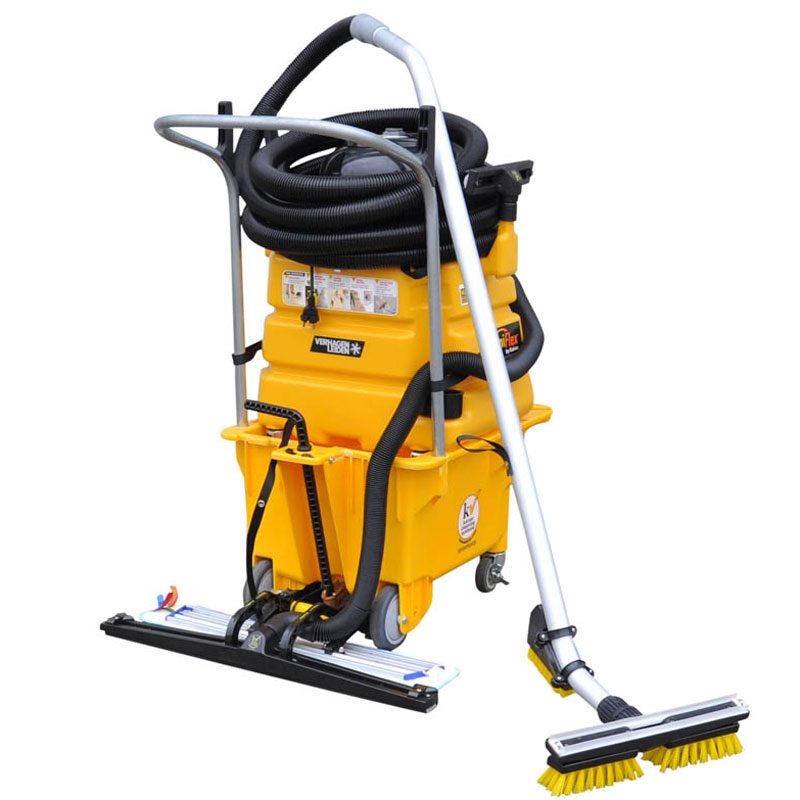 OmniFlex ™ Dispense-and-Vac
for Food Service Deluxe (ODVFD220VUSA) : KVCM03
The Dispense-and-Vac system is one of the most popular OmniFlex™ models, providing a simple, fast approach to clean, safe floors.

The OmniFlex Dispense-and-Vac system is available as a pre-configured system or can be assembled by simply adding the optional OmniFlex™ Wet/Dry Vac to an OmniFlex Trolley-Bucket. Either way, just open the spigot and apply fresh cleaning solution to the floor, spread and lightly brush into grout lines, and then vacuum the soils and liquid away. Floors are clean and dry. The process is better, faster and safer than cleaning with a mop.

A food service model is also available with a grease-resistant, crush-proof vacuum hose.
Accessories for the Autovac
CODE
DESCRIPTION
Replacement Consumables for the Omniflex Auto Vac System
KVCM08
Ergo Mop Handle
KVCM13
White Spreader Pads 4.5" x 16", (1 x 5pcs/pkt)
KVCM09
Mop Frame 18"
KVCM21A
Replacement Squeegee Blades (2pcs required for Dispense & Vac)
KVCM22A
S/s Wheel Assembly for Squeege Head (2pcs required for Dispense & Vac)
KVCM26
Squeegee / Brush Head 14" Complete (2pcs required per set)
KVCM25
Mohawk Grout Brush
Spare Parts for Omniflex Dispense & Vac
KVCM27
Omniflex Vacuum Head Assembly, 240V
KVCC02
Kaipow Degreaser, Packing: 4 x 1gln/case
Crush resistant and greese proof reolacement hose 35''
REDUCED SLIP-AND-FALL ACCIDENTS
Rapid drying combined with extremely clean surfaces means immediate availability and reduced slip-and-fall accidents. In fact, the system has been certified by the National Floor Safety Institute (NFSI) as providing High Traction.
FRESH SOLUTION REDUCES THE RISK OF CROSS-CONTAMINATION
The self-dispensing solution tank ensures that custodians use only fresh, clean solution, which minimizes the possibility of spreading soils and contamination.
INDUSTRY'S BEST SQUEEGEE BLADES
Developed for cleaning performance and durability in "hostile" environments, our squeegee blades are engineered for maximum soil removal. Plus, they're chemical, grease-and wear-resistant for extra-long life.
DIVIDE AND CONQUER
Split OmniFlex components apart to divide cleaning tasks and cut cleaning time in half or more. For example, one worker applies cleaning solution with the trolley-bucket, while another worker brushes and vacuums up the solution.
DUMP IN TOILET OR SLOP SINK
Save time and avoid worker injuries by dumping dirty water in the nearest toilet or slop sink. Empty the trolley-bucket with the pour spout on the rim, or by simply opening the spigot over a drain. The Wet/Dry Vacuum empties with a convenient drain hose.
LONG RANGE VAC HOSE
The OmniFlex Wet/Dry Vac boasts one of, if not the, longest vacuum hoses available on wet/dry vacuums today, making it perfect for larger cleaning tasks.
SQUEEGEE HEAD BRUSH
This practical accessory combines two tools into one by integrating the Kaivac's existing high performance squeegee vacuum head with a heavy duty bristled floor brush. Just flip it to instantly switch from vacuuming to brushing. As a result, it eliminates time wasted changing tools while wet vacuuming floors.
EASY CLEAN OUT
All of the OmniFlex components are designed for easy clean out. They are extremely easy to separate and rinse out before storing
CLEAN OUTSIDE AREAS
Drive-thrus, parking lots and sidewalks are a challenge to clean and are subject to environmental regulations and fines. The Kaivac vacuum collects all water and soils for safe, environmentally-friendly disposal.
TIDY STORAGE
The OmniFlex system was engineered for space efficiency. Hoses and cords wrap neatly, and the whole system splits apart for efficient storage in even the tightest of spaces.
NO SERVICE TRUCKS REQUIRED
In the rare case that repairs are necessary, all components of the OmniFlex system are small enough that they are easily shipped via UPS or other parcel post service for quick replacement.
PICK UP SPILLS - NO SWEEPING
The OmniFlex is a convenient and easy solution for spills. If necessary, apply cleaning solution either with the trolley-bucket spigot or with the OmniFlex Pump system, brush (if needed) and then vacuum up the liquid. Floors are clean and dry in an instant.
FLOOR STRIPPING
Easily apply floor stripping solution through the trolley-bucket. Then, vacuum it up with the OmniFlex Wet/Dry Vac.
FLOOR SAFETY
Kaivac's No-Touch Cleaning® and Crossover Cleaning™ systems have been certified by the National Floor Safety Institute (NFSI) as providing 'High Traction' in accordance with the ANSI/NFSI B101.1-2009 standard.
This package includes the following products:
OmniFlex™ Wet/Dry Vacuum
The powerful OmniFlex Wet/Dry Vacuum is designed for heavy-duty commercial and industrial floor maintenance. Used stand-alone as a traditional wet/dry vac, it's great for picking up spills, detail cleaning, job site cleanup, flooding, vehicle and equipment detailing, and more. Or, it can be easily mounted on Kaivac's OmniFlex trolley-bucket where it becomes an integral component of a high-performance OmniFlex Dispense-and-Vac or Spray-and-Vac cleaning system.
OmniFlex™ Trolley-Bucket
The patented OmniFlex Trolley-Bucket is the most versatile mop bucket available today. For starters, it makes an ideal mop bucket/wringer combo for supporting traditional cleaning methods. But, it also does a whole lot more. Its built-in self dispensing spigot makes it perfect for applying fresh cleaning solution, degreaser, stripping solution, floor finish and gym finish in a fast and flawless manner. Add optional bins and microfiber accessories and convert it into a full-featured microfiber trolley system. Plus, when you're ready, simply add OmniFlex™ components and tools to build a custom hygienic cleaning system that fits your exact needs. Considering all that the trolley-bucket offers, why would you ever buy another standard mop bucket again? Check it out and see why we call it "the bucket with a future."
Why is Dispense-and-Vac Better?
Floors can be difficult and expensive to maintain. If not cared for properly, they not only become unsightly, they can drive customers away, cause slip and fall accidents, and even become a health hazard. Unfortunately, traditional mopping can make matters worse. Mopping is slow, ineffective and even potentially dangerous - leaving floors slippery, wet, and with very few of the soils and biopollutants removed. Grouted floors are even trickier. In fact, during mopping, grout lines actually "squeegee" soil and soap scum from mops. When the water evaporates, soils, mineral deposits, soap scum and potentially harmful biopollutants are left to penetrate and coat the porous grout. Grout lines that started out light gray or white soon become stained and darkened.
The OmniFlex Dispense-and-Vac system offers a low cost solution to this expensive problem.
Highlights:
• Spigot throttle manages the amount of solution used, reducing chemical costs up to 90% while producing better results.
• Powerful vacuum combined with top quality squeegee head thoroughly removes soils and contaminants.
• Rapid drying means reduced slip and fall accidents and immediate availability.
• Cleaning solution always stays fresh because soiled water is vacuumed into a separate tank.
• Very easy to learn and use. Even a first-time user can achieve great results.
• Cleans 4,000 square feet of floor space in a single trip (400 ft²/gallon).
• Double your pickup capacity by emptying the vac tank into the trolley-bucket.
• Simply add optional pump system to convert to a Spray-and-Vac system.
• Low cost is often below capital expenditure thresholds.
Perfect For:
• Food Service
• Convenience Stores
• Healthcare
• Education
• Retail
• Daily Floor Cleaning
- Restroom/washroom Cleaning
• Degreasing Kitchens
• Stripping Waxed Floors
• Spill Pick-up
• Flood Pick-up
Wet/Dry Vacuum Specifications:
Vac Tank: 11.5 Gallons (43,5 l)
Dump/Drain Hose: 23 inches (58,4 cm) long
Vac Tank Cleanout: 100% via Dump/Drain Hose
Vac CFM: 60 cfm (1700 l/min)
Vac Motor Lift: 80 inches (203,2 cm)
Vac Hose: 45' (13,7 m) slinky style
Vac Wand: 2-piece

Send us an Enquiry